The Glossa Ordinaria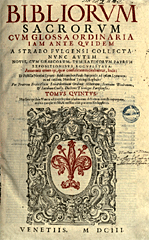 This page is a branch off of the Bibliography of Primary Sources. It contains .pdf files of a complete copy of the Bibliorum Sacrorum cum Glossa Ordinaria, 6 vols. (Venice, 1603). The Glossa Ordinaria, which was finished during the 13th century, was the standard biblical gloss during the middle ages, used by Wyclif and his contemporaries. This copy also includes prologues, glosses, and commentary by Hieronymus and Nicholas of Lyra.
The Glossa alone is also published in vols. 113 and 114 of the Patrologia Latina, misattributed to Strabo. You can find these at Documenta Catholica Omnia, as .pdf page images and .pdf text files. It is also at Patrologia Latina database, by subscription only, though with a wider range of search options. Much if not all of the PL is also now on Google Books.
A facsimile has been published as Biblia latina cum glossa ordinaria: Facsimile reprint of the Editio Princeps (Adolph Rusch of Strassburg 1480/81), 4 vols., with an intro. by Karlfried Froehlich and Margaret T. Gibson (Turnhout: Brepols, 1992). This edition is on line at glossae.net, a developing site that will include a number of medieval Biblical glosses; here is the page for the Glossa Ordinaria.
An edition of the Glossa ordinaria in Canticum Canticorum was published by Brepols in 1997 (ed. Mary Dove). Dove published a translation of this in the TEAMS Commentary Series in 2004. A translation of The Glossa Ordinaria on Romans was published in the TEAMS Commentary Series in 2011 (ed. Michael Scott Woodward).
This copy was found on the Internet Archive. It's not perfect; text sometimes falls into the gutters and escapes scanning. The volumes have been reduced in size and broken up into books so that users aren't required to download enormous files (though you can download entire volumes at once if you really want to). The files seem to be clearer if they are downloaded to the desktop before being read, as opposed to when they are read in a browser window, though your experience may vary.
A very few have been bookmarked. While there are a number of Prologues at the beginning of volume 1, prefatory material for vols. 2-6 is limited to the title page and an index, broken down by biblical book, of the auctores quoted in that volume. Note also the index at the end of Vol. 5.
---