New Essay Collection: Wycliffite Controversies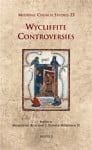 Brepols has published new collection of essays, edited by J. Patrick Hornbeck and Mishtooni Bose, that includes a wide range of work. According to the publisher the volume considers "in interdisciplinary fashion the historical, literary, and theological resonances of the Wycliffite controversies. Far from adhering to the traditional binary divide between 'orthodoxy' and 'heresy' as a tool for explaining the religious turmoil of the late fourteenth, fifteenth, and early sixteenth centuries, essays here explore the construction and rhetorical use of those terms, collectively producing a more nuanced account of the religious history of pre-Reformation England." This promises to be a very important collection of studies!
Comments are closed.